Music
Bunbury Primary offers its students a comprehensive music program which aims to provide a solid foundation in music skills for all students. The focus is to encourage children to listen, sing, play, and explore rhythm and sound through exposure to a wide variety of instruments.
From Year 3 the students are introduced to basic music theory which they apply through learning the recorder. Bunbury PS is fortunate to have a number of Marimba – similar to a xylophone – and offers ensemble practice for those who enjoy percussion. Those students interested in singing can further their abilities by joining either the Junior or Senior School Choirs, both which practice during school hours.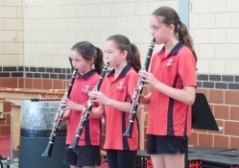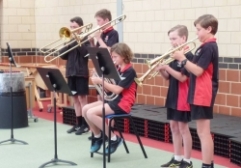 Students are provided opportunities to perform both instrumentally and aurally at fortnightly school and whole class music assemblies. Bunbury PS encourages and provides opportunities for its students to extend themselves by competing in the annual City of Bunbury Performing Arts Eisteddfod, and community music events including the annual National Making Music Day. Students also volunteer their time by performing for local nursing homes.
Bunbury Primary School also participates in the Department of Education's Instrumental Music School Services (IMSS) program which is a unique and highly regarded music program for selected students in the public school system who show an aptitude for, and desire to extend their learning in music. Through the program students in Years 5 and 6 have the opportunity to learn a single instrument. Students are offered either clarinet, flute, baritone, trombone or trumpet. In addition to weekly, small group tuition with a specialist teacher at the end of the year all the IMSS students have the chance to come together and play in a big band at one of the regional schools, playing a selected number of concert pieces.