Competitions
Bunbury Primary School encourages and supports its students in participating in numerous local, regioinal, state, national and online international competitions which helps to challenge the student's thinking and expands their learning. Some examples of these competitions is listed below.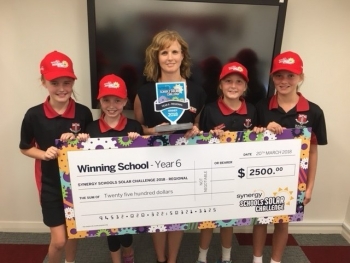 Synergy Solar Car Challenge: Developed in partnership with the Science Teachers Association of WA (STAWA), the Synergy Schools Solar Challenge is a hands-on learning initiative designed to encourage students to develop a love for the Science, Technology, Engineering and Maths (STEMs) curriculum. Students from Years 6 and Years 8 in the Perth and Bunbury areas are given the opportunity to build and test a model solar powered car from a standard kit and to race against others schools. Regional finalists were then invited to Perth to compete in the grand final of the Synergy Schools Solar Challenge, held at Optus Stadium. More than a thousand students participate in this event annually. Bunbury Primary School have been very successful over the last few years, advancing to the grand final in 2018 and 2019, placing third and fourth respectively.
Therapy Focus Art Competition Yr 1-6:  Bunbury PS competed in this competition once again in 2018 through our school Visual Arts program. Students from across the state are invited to illustrate the pages of a storybook which features characters with disabilities and promotes the key message of inclusion for young readers. This year the book was called: œIf I met a Baboon Who Lost His Balloon. Therapy Focus received 5300 entries from 1010 school across the state. A panel selected 80 finalists and 20 winning artworks to feature. Bunbury PS had 5 finalists selected: Jade, Riley, Jessie, Olivia and Kendal. Kendal and Riley's artwork were selected as winning entries to be featured in the published book: Congratulations Mrs Allen and to all students who entered.
RoboGa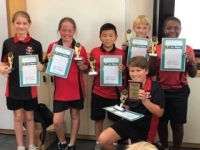 ls Science Challenge: The competition was open to girls aged 5 to 15 years. Last year Molly in Year 4 chose the topic Optical Illu-sions for her submission to the competition.
Have Sum Fun Maths: Bunbury Primary School students participate in the Mathematical Association of Western Australia's (MAWA) annual Have Sum Fun maths quiz. The competition helps to foster mathematical problem solving. This year we had two Year 5-6 teams represent the school. The students were in teams of six and had to answer four rounds of eight challenging problems. We were very proud of our school teams who placed 1st and 5th out of 12 other school teams.
Some other competitions include:
ICAS University of New South Wales
Mission Moon
Bebras Computational Thinking Challenge