Music
Bunbury Primary offers a dynamic and inclusive music program for all students. Students participate in music once a week for 45 minutes. Students are actively engaged in music making, creating and performing. The music program is developmental and values creative thinking and collaborating.
Students develop musical learning through the media of singing, movement, speaking and playing instruments. Students have the opportunity to play classroom percussion, xylophones, marimbas, ukuleles, keyboards, recorders and drums, to enhance musical learning and to make music together.
The overarching aim is to deliver a music program that is positive, celebrates the joy of music and emphasises participation for all.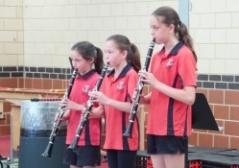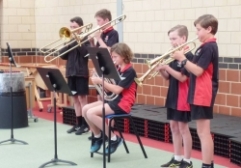 Junior Choir (year 3/4), Senior Choir (year 5/6) and Marimba Band are offered as timetabled classes during the school week. These groups provide opportunities for interested students to develop skills, confidence and teamwork through musical performance for the school and to the wider local community. These groups enjoy performing at school events, assemblies, Nursing Homes/Aged Care, WA Eisteddfod and at other community events.
Students in year 5 and 6 have the opportunity to be selected for the IMSS. At Bunbury Primary School learning is offered for flute, clarinet and brass. Thirty minute group lessons are provided once a week by instrumental teachers from IMSS. These students have performance opportunities at school assemblies, the œAll in Music Day and at a performance once a year with instrumental students throughout the district, held annually at a local high school.